Physical-Chemical Transformer Diagnostics
Activities
The main area of activity of the Physical-Chemical Transformer Diagnostics Department (PCTDD) is fundamental and applied research into physical and chemical diagnostics in high voltage devices.
The Physical-Chemical Transformer Diagnostics Department carries out activities in the fields of energy chemistry and physical research:
physical and chemical diagnostic testing of power and instrument transformers;
testing of transformer oils and paper insulation according to the requirements of IEC specifications and directives, international recommendations, Slovenian legislation, i.e. in accordance with standard procedures,
issuing expert physical and chemical diagnostic assessments in the area of operational reliability of new and old transformers,
applied research in physical and chemical diagnostics,
use of recognised methods and development of advanced non-destructive diagnostic methods for the early detection of transformer faults, preventive maintenance, prolongation of life span and the operational reliability of transformers,
assessment of the remaining life span and technological elaboration in the area of investment, maintenance and operational revitalisation activities in transformers and other high-voltage equipment,
consulting, education, organisation of conferences and meetings of working groups,
research and inter-laboratory "Round Robin" testing in the working groups of the CIGRE international conference and the IEC international electric technology commission in the area of developing standards for physical-chemical diagnostics of high-voltage insulated systems. The department experts also participate in the SIST TPD technical committee in the area of liquid and gas dielectrics.
PHONE:
+386 1 474 36 61

Head of department

M.Sc., Maja Koncan-Gradnik
Phone:
+386 1 474 36 60
Email:
Laboratory
Chemistry laboratory with equipment for:
Carrying out physical-chemical analyses to determine functional capabilities and the degree of ageing of transformers and turbine oils in compliance with IEC standards,
Carrying out analyses to evaluate the mechanical strength of paper insulation in compliance with IEC standard.
IR spectroscopy laboratory  to measure the inhibitor content, to identify types, degree of ageing and contamination of transformer oils in compliance with IEC standards.
Chromatography laboratory with:
Gas chromatography for Dissolved Gas Analysis to determine transformer condition with regard to incipient thermal and electrical faults or actual faults in compliance with IEC standards,
HP Liquid chromatography for furanic compounds determination to monitor ageing, faults, and evaluation of mechanical strength of paper insulation in compliance with IEC standards.
Certificates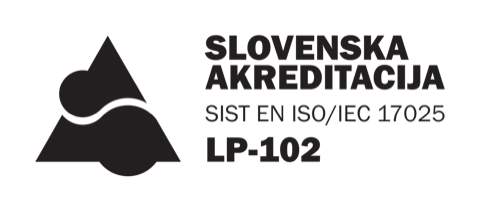 Gallery
Physical-Chemical Transformer Diagnostics Department today

Sensor diagnostics of gases dissolved in oil

Oil sampling from the largest 1200 MVA phase shift transformer in Slovenia, Divača transformer station

Dissolved gas analysis for discovering transformer defects today

The largest 1200 MVA phase shift transformer in Slovenia, Divača transformer station

Gas chromatograph

The beginnings of gas cromatography for transformer diagnostics in 1985

The Laboratory of the Expert Group for Chemistry and Physical Research Laboratory in 1952

The awarding of the Dutch Raad vor Accreditatie certificate ISO/ IEC 17025